Rural Setting in farming land but still just a walk into Sheffield, "The Town of Murals"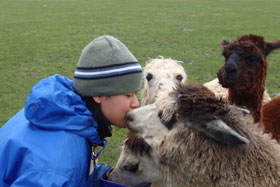 Kentish Hills Retreat is the ideal location for an extended stay while discovering Cradle Mountain and the northwest coast with your hosts Doug and Choki Judges.
Located in the "Town of Murals" and overlooked by beautiful Mt. Roland, you can relax in luxurious self catering motel units set in rural surroundings on 5 acres, yet only 4oo metres from the centre of town.
Handfeed our Alpacas. Relax in a beautiful garden setting and BBQ area, then wander around the township and be in awe of the fabulous murals that adorn the walls in and around the town- don't miss the Mural Park. Visit local attractions such as Tasmanzia, vineyards, locally made art and craft in the galleries, wild life park, caves at Mole Creek, Ash Grove cheese factory, raspberry farm, Anvers chocolate factory, honey farm, picnic at Lake Barrington and of course, the Cradle Mountain National Park plus many other attractions within the region.
FREE WIFI (Limited). Whether staying in our family apartments, deluxe rooms or pampering yourself in the spa suite, all with large flat screen LCD TV's and DVD players, your stay at Kentish Hills Retreat is guaranteed to be relaxing and enjoyable at the same time.